GPF Combi Vari: the best of both worlds
GPF Combi Vari offers customers a complete freedom of choice in assembling door hardware, security fittings, SKG*** and window hardware. In only three steps you will be able to make your own unique personalized set, both online as well as offline.
Pure ease with GPF Combi Vari
At Ten Hulscher we are always looking for the best sales tools for our products. It's in our blood. By making door hardware accessible for everyone and at the same time closely working together with our dealers, we want to ensure that all of our customers benefit from optimal comfort and the best experience. To ensure this GPF CombiVari has its own unique online and offline concept. By using the online GPF Wizard door fittings have become accessible for everyone; always and everywhere. While the physical sale displays ensure that our customers actually experience our door fittings.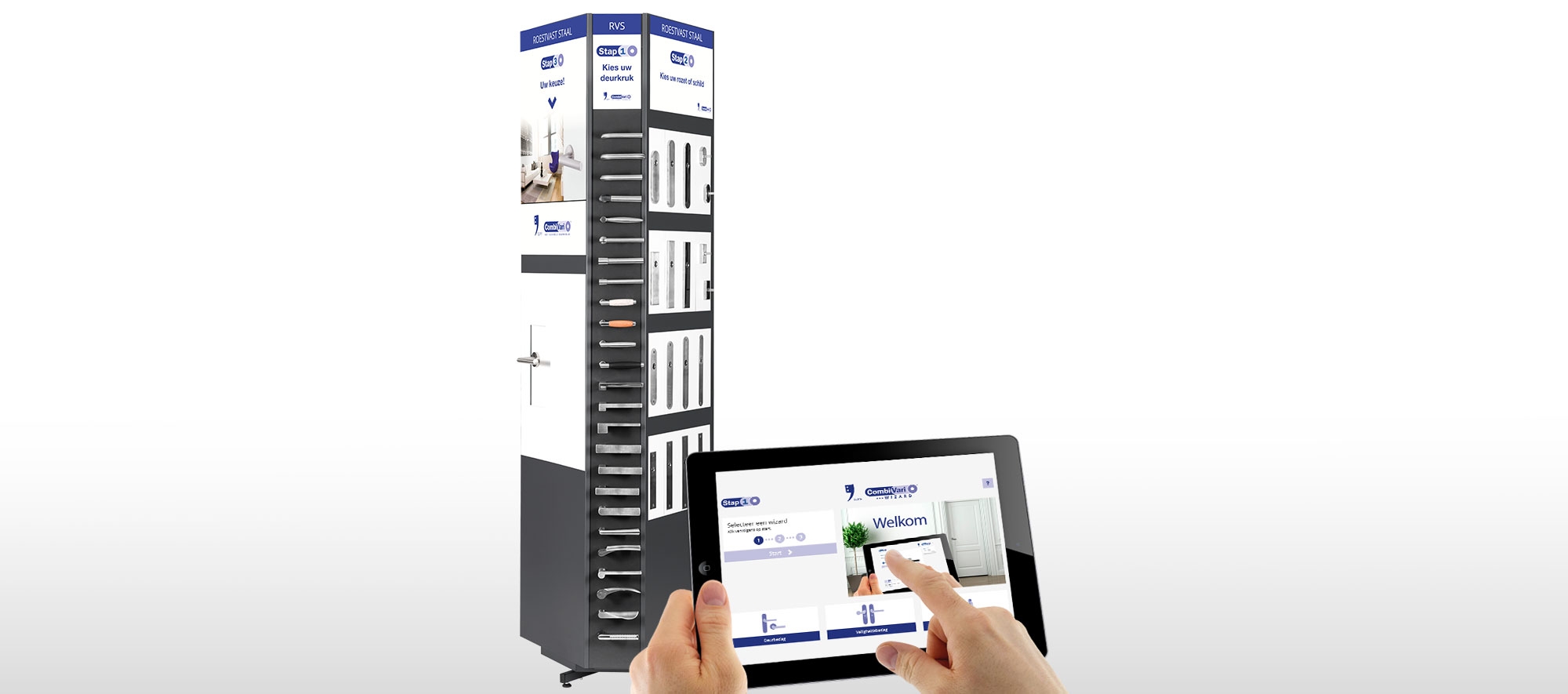 5 times selling more effectively with GPF Combi Vari display
More than 2.400 physical abilities on 0,5m2, which means much on little! If you combine it with a security display it will give you more than 3.500 opportunities;
Smart, efficient seller; the customer helps himself and chooses targeted;
Products are provided with a clear coding and fixed price;
As dealer, it's possible to sell along related products.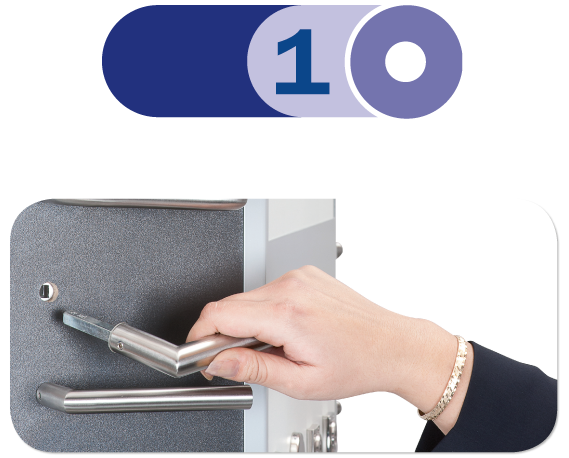 Choose your door handle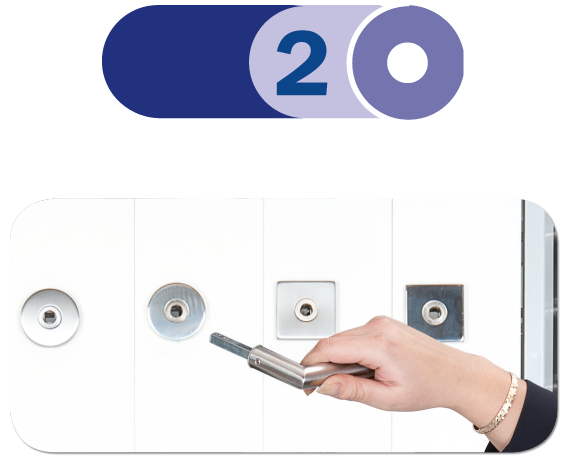 Choose your rose or plate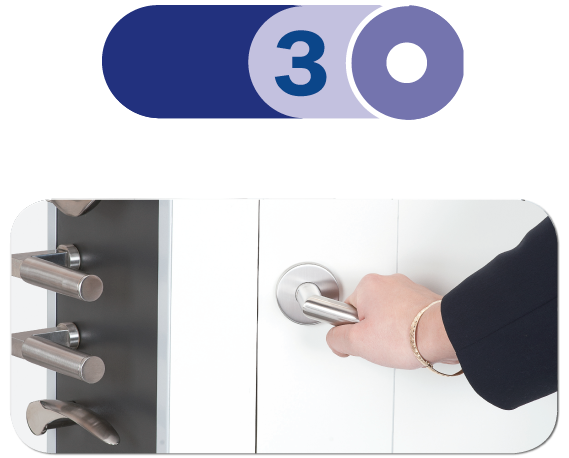 Your unique choice!
Taking advantage of online and offline cross-pollination
Merging Physical and digital makes for a golden combination. Compare it with a flower and a bee. Both grow or fly without being stuck to each other. But the deeper layer is in order to survive, they cannot live without each other. Ten Hulscher believes that cross-pollination also applies on online and offline. It is even essential in order to further develop products.
Offering our products online enables us to reach a lot of people and it makes it easier to compose door fittings by yourself. At the same time, our offline displays ensure that customers can hold and see a door handle in real-life, this way they will get a feel for the product. This ensures that online and offline becomes a golden combination.
Step into the shoes of a designer
Designing on your own just like a real designer has become hot! GPF Combi Vari offers customers the opportunity to compose their own door fittings. Personal is indeed better than standard!
Both the GPF Wizard as well as the GPF Combi Vari sales display offer a unique combination of dynamism and peace. First the concept is dynamic, because it allows the customer to switch rapidly between different door handles, plates and roses. On the other hand, rest is kept by presenting the final result on a plain background without any distraction. The best way to reach a decision quickly and effectively!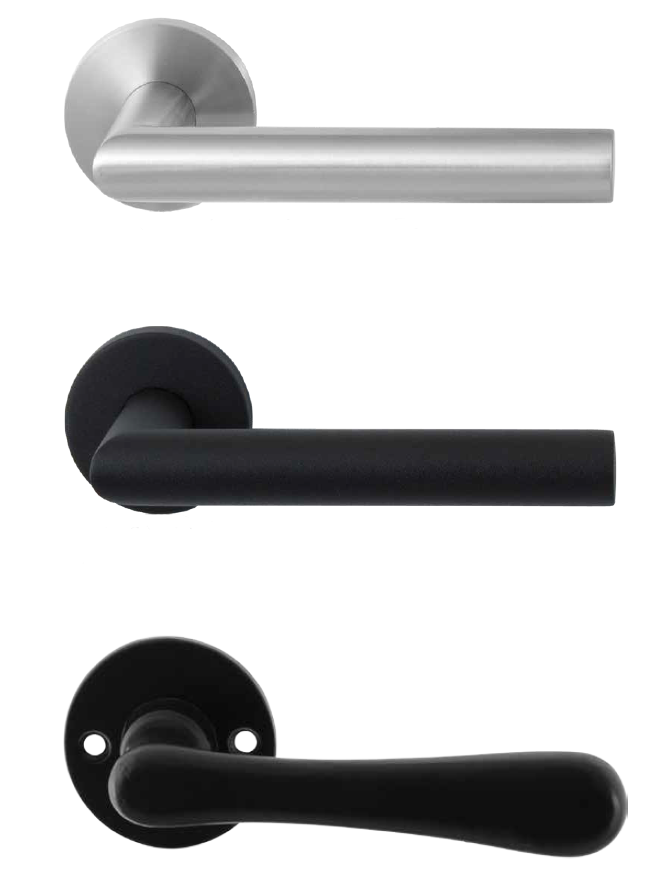 GPF Combi Vari: for years strong
Ever since we started in 1996 as an importer and manufacturer of locks, the concept of flexible door fittings at Ten Hulscher has been under development. Over the years GPF Combi Vari has turned out as a strong strategy, with as main goal: through the funnel principle making sure that our customers end up with their favourite door fittings. A concept that is constantly updated and greatly appeals to our dealers and customers. It proves that GPF Combi Vari has lost none of its strength over the years. Composing your own door fittings has become more popular than ever! The clue at Ten Hulscher is; providing good sales tools, continuous innovation and clear communication with dealers and consumers. This way we know what lives among users. This ensures GPF Combi Vari remains the best of both worlds for everyone.